Dream catamaran cruise to SILHOUETTE ISLAND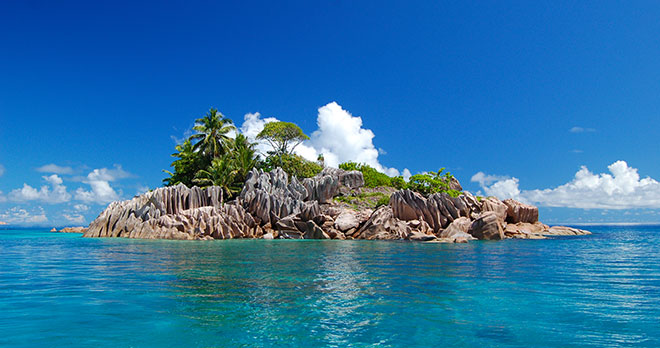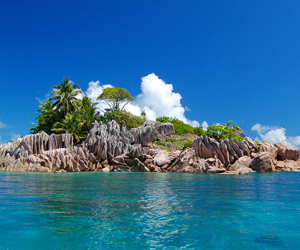 Visited Countries:
Seychelles
Embark on a picturesque cruise with a creole rhythm to this little known and unique paradise of the Indian Ocean: The Seychelles. You will not miss any of the unforgettable jewels of the archipelago, even Anse Major and Beau Vallon, as well as a well-kept treasure: Silhouette Island with its magnificent tropical forest, a coral island that has become a natural reserve..
Updated February 8, 2021.
day 1


MAHE – SAINTE ANNE MARINE NATIONAL PARK
Embarkation and sail towards Sainte Anne. (D)
day 2


SAINTE-ANNE MARINE NATIONAL PARK – COCOS ISLAND – LA DIGUE
Visit the Sainte Anne National Park and its superb sea life, a chance to snorkel in the natural aquarium of Cocos island. Over night in the picturesque port of La Digue. (B, L, D)
Day at leisure to discover the island with by renting a bike on site ($). With hits winding paths under large palm trees, its typical houses, copra farms, white sandy beaches, its large polished rocks, this island is without a doubt the most beautiful in the Seychelles. (B, L, D)
day 4


LA DIGUE – COUSIN ISLAND – BAIE SAINTE- ANNE (PRASLIN)
Visit Cousin, a natural reserve where many species of birds and giant turtles live. Navigation towards Sainte-Anne Baie, Praslin. (B,L,D)
day 5


BAIE SAINTE-ANNE – BIG SISTER ISLAND – CURIEUSE ISLAND (PRASLIN)
Head to Big Sister island with its exceptional beach for a day of relaxation and a BBQ. You can visit the island using the romantic path or do some nautical activities. At the end of the day we will head towards Curieuse or Anse Petite Cour on Praslin Island. (B, L, D)
day 6


CURIEUSE ISLAND – SAINT PIERRE – ANSE VOLBERT (PRASLIN)
Visit Curieuse, an island sheltering more than a hundred giant tortoises. Then Saint Pierre: a heap of round rocks with massive tall palm trees in a typical Seychellois landscape. Overnight in Anse Volbert or Anse Lazio in Praslin. (B, L, D)
day 7


ANSE VOLBERT – ANSE MAJOR (MAHE)
A day of swimming or nautical activities on the beautiful beaches of Praslin. Evening sail to Anse Major in Mahe. (B, L, D)
day 8


ANSE MAJOR – SILHOUETTE ISLAND
Today Anse Major, a dream location only accessible to walkers and boaters where the color of the water speaks for itself. Navigation towards Silhouette island. (B, L, D)
day 9


SILHOUETTE – BEAU VALLON (MAHE)
Silhouette, the well-kept secret of the Seychelles. Visit this magical place by hiking in the heart of an exceptional tropical forest. Early afternoon navigation toward Beau Vallon. (B, L, D)
day 10cc


BEAU VALLON – EDEN ISLAND (MAHE)
Take advantage of Beau Vallon's long white sandy beach surrounded by unspoiled nature. Depart for Eden Island, a prestigious, bustling marina with bars and shops. (B, L, D)
Morning disembarkation in Mahe. (B)
B BREAKFAST / L LUNCH / D DINNER
Departure
Dates
Price per person, $CDN, based on 2 people/room

Prices subject to change

Dates
Airline
Lowest Price
Notes
Regular Price
Details
From 26 may to 05 june 2021
cruise only
2649 $

Double occupancy cabin

2649 $
View details
From 26 may to 05 june 2021
cruise only
3699 $

Single occupancy cabin

3699 $
View details
From 05 to 15 june 2021
cruise only
2649 $

Double occupancy cabin

2649 $
View details
From 05 to 15 june 2021
cruise only
3699 $

Single occupancy cabin

3699 $
View details
From 15 to 25 june 2021
cruise only
2649 $

Double occupancy cabin

2649 $
View details
From 15 to 25 june 2021
cruise only
3699 $

Single occupancy cabin

3699 $
View details
From 25 june to 05 july 2021
cruise only
2649 $

Double occupancy cabin

2649 $
View details
From 25 june to 05 july 2021
cruise only
3699 $

Single occupancy cabin

3699 $
View details
From 05 to 15 july 2021
cruise only
2649 $

Double occupancy cabin

2649 $
View details
From 05 to 15 july 2021
cruise only
3699 $

Single occupancy cabin

3699 $
View details
From 15 to 25 july 2021
cruise only
2649 $

Double occupancy cabin

2649 $
View details
From 15 to 25 july 2021
cruise only
3699 $

Single occupancy cabin

3699 $
View details
From 25 july to 04 aug. 2021
cruise only
3399 $

Double occupancy cabin

3399 $
View details
From 25 july to 04 aug. 2021
cruise only
4749 $

Single occupancy cabin

4749 $
View details
From 04 to 14 aug. 2021
cruise only
3899 $

Double occupancy cabin

3899 $
View details
From 04 to 14 aug. 2021
cruise only
5449 $

Single occupancy cabin

5449 $
View details
From 14 to 24 aug. 2021
cruise only
3899 $

Double occupancy cabin

3899 $
View details
From 14 to 24 aug. 2021
cruise only
5449 $

Single occupancy cabin

5449 $
View details
From 24 aug. to 03 sept. 2021
cruise only
3399 $

Double occupancy cabin

3399 $
View details
From 24 aug. to 03 sept. 2021
cruise only
4749 $

Single occupancy cabin

4749 $
View details
From 03 to 13 sept. 2021
cruise only
3399 $

Double occupancy cabin

3399 $
View details
From 03 to 13 sept. 2021
cruise only
4749 $

Single occupancy cabin

4749 $
View details
From 13 to 23 sept. 2021
cruise only
3399 $

Double occupancy cabin

3399 $
View details
From 13 to 23 sept. 2021
cruise only
4749 $

Single occupancy cabin

4749 $
View details
From 23 sept. to 03 oct. 2021
cruise only
3199 $

Double occupancy cabin

3199 $
View details
From 23 sept. to 03 oct. 2021
cruise only
4499 $

Single occupancy cabin

4499 $
View details
From 03 to 13 oct. 2021
cruise only
3199 $

Double occupancy cabin

3199 $
View details
From 03 to 13 oct. 2021
cruise only
4499 $

Single occupancy cabin

4499 $
View details
From 13 to 23 oct. 2021
cruise only
3499 $

Double occupancy cabin

3499 $
View details
From 13 to 23 oct. 2021
cruise only
4899 $

Single occupancy cabin

4899 $
View details
From 23 oct. to 02 nov. 2021
cruise only
3899 $

Double occupancy cabin

3899 $
View details
From 23 oct. to 02 nov. 2021
cruise only
5449 $

Single occupancy cabin

5449 $
View details
From 02 to 12 nov. 2021
cruise only
3899 $

Double occupancy cabin

3899 $
View details
From 02 to 12 nov. 2021
cruise only
5449 $

Single occupancy cabin

5449 $
View details
From 12 to 22 nov. 2021
cruise only
3499 $

Double occupancy cabin

3499 $
View details
From 12 to 22 nov. 2021
cruise only
4899 $

Single occupancy cabin

4899 $
View details
From 22 nov. to 02 dec. 2021
cruise only
3499 $

Double occupancy cabin

3499 $
View details
From 22 nov. to 02 dec. 2021
cruise only
4899 $

Single occupancy cabin

4899 $
View details
From 02 to 12 dec. 2021
cruise only
2899 $

Double occupancy cabin

2899 $
View details
From 02 to 12 dec. 2021
cruise only
4049 $

Single occupancy cabin

4049 $
View details
From 12 to 22 dec. 2021
cruise only
2899 $

Double occupancy cabin

2899 $
View details
From 12 to 22 dec. 2021
cruise only
4049 $

Single occupancy cabin

4049 $
View details
From 22 dec. 2021 to 01 jan. 2022
cruise only
2899 $

Double occupancy cabin

2899 $
View details
From 22 dec. 2021 to 01 jan. 2022
cruise only
4049 $

Single occupancy cabin

4049 $
View details

PROMOTION INCLUDED IN THE PRICE: 10% FOR RESERVATION BOOKED 180 DAYS IN ADVANCE
Our price

includes :
10 nights catamaran cruise, 4 cabins with air conditioning from 08:00 am to 10:00 pm
29 meals : 10 breakfasts, 9 lunches, 10 dinners
2 crew members
3 sets of sheets per cabin
3 bath towels and 3 beach towels per person
Nautical equipment : kayak, fins, mask, and snorkel
Our prices do
not include

:
International flight
Tourist and port taxes of € 210 per person (mandatory payable locally)
Transfers
Meals and drinks not mentioned
Optional excursions payable locally
Tips for crew members
Supplement for early boarding before 01:00 pm up to 04:30 pm
Supplement to upgrade to a catamaran premium (on request)