DREAM VACATION IN MAURITIUS ISLAND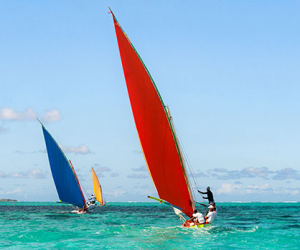 Visited Countries:
Mauritius
Mauritius, a sparkling jewel in the turquoise waters of the Indian Ocean, is an ideal place for an exotic all-inclusive stay. The contrast of colors, cultures and flavors gives such charm to this island that the scene is set for an unforgettable holiday.
Updated February 8, 2021.
day 1


MAURITIUS ISLAND – WELCOME TO MAURITIUS
Arrival at the airport, welcome and transfer to your all-inclusive hotel. This volcanic island will welcome you for the next 10 nights. Cultural mix and traditions are the key words of this famous and little know culture of Mauritius. (D)
day 2 to 10


MAURITIUS ISLAND
Discover the beauty of Mauritius at your own pace. Do not miss the Deer Hole, an attraction offering a magnificent sight, or the lands of the seven colors, a curious geological phenomenon where you can observe a land that declines in dozens of shades. Ile aux Cerfs, this uninhabited islet, is one of the most beautiful sites in Mauritius. Also visit the nature reserves and the famous botanical garden of Pamplemousse with its giant water lilies. You will no doubt also appreciate the magnificent beaches where the water is calm and transparent thanks to the coral reef surrounding the island. (B, L, D)
day 11


MAURITIUSISLAND–DEPARTURE
You will leave Mauritius with your head filled with memorable and colorful moments. Transfer to the airport. (B)
B BREAKFAST / L LUNCH / D DINNER
Departure
Dates
Price per person, $CDN, based on 2 people/room

Prices subject to change

Dates
Airline
Lowest Price
Notes
Regular Price
Details
05 to 15 avr. 2021
land portion
2349 $

Option 1 – double occupancy

2349 $
View details
05 to 15 avr. 2021
land portion
3449 $

Option 1 – single occupancy

3449 $
View details
05 to 15 avr. 2021
land portion
2499 $

Option 2** – double occupancy

2499 $
View details
05 to 15 avr. 2021
land portion
3949 $

Option 2** – single occupancy

3949 $
View details
05 to 15 avr. 2021
land portion
3749 $

Option 3 – double occupancy

3749 $
View details
05 to 15 avr. 2021
land portion
5749 $

Option 3 – single occupancy

5749 $
View details
16 to 24 avr. 2021
land portion
2349 $

Option 1 – double occupancy

2349 $
View details
16 to 24 avr. 2021
land portion
3449 $

Option 1 – single occupancy

3449 $
View details
16 to 24 avr. 2021
land portion
2499 $

Option 2** – double occupancy

2499 $
View details
16 to 24 avr. 2021
land portion
3949 $

Option 2** – single occupancy

3949 $
View details
16 to 24 avr. 2021
land portion
3349 $

Option 3 – double occupancy

3349 $
View details
16 to 24 avr. 2021
land portion
5049 $

Option 3 – single occupancy

5049 $
View details
25 avr. to 15 may 2021
land portion
2049 $

Option 1 – double occupancy

2049 $
View details
25 avr. to 15 may 2021
land portion
2899 $

Option 1 – single occupancy

2899 $
View details
25 avr. to 15 may 2021
land portion
2649 $

Option 2** – double occupancy (t)

2649 $
View details
25 avr. to 15 may 2021
land portion
4249 $

Option 2** – single occupancy (t)

4249 $
View details
25 avr. to 15 may 2021
land portion
3349 $

Option 3 – double occupancy

3349 $
View details
25 avr. to 15 may 2021
land portion
5049 $

Option 3 – single occupancy

5049 $
View details
16 to 31 may 2021
land portion
2049 $

Option 1 – double occupancy

2049 $
View details
16 to 31 may 2021
land portion
2899 $

Option 1 – single occupancy

2899 $
View details
16 to 31 may 2021
land portion
2299 $

Option 2** – double occupancy

2299 $
View details
16 to 31 may 2021
land portion
3649 $

Option 2** – single occupancy

3649 $
View details
16 to 31 may 2021
land portion
3349 $

Option 3 – double occupancy

3349 $
View details
16 to 31 may 2021
land portion
5049 $

Option 3 – single occupancy

5049 $
View details
01 to 30 june 2021
land portion
1949 $

Option 1 – double occupancy

1949 $
View details
01 to 30 june 2021
land portion
2749 $

Option 1 – single occupancy

2749 $
View details
01 to 30 june 2021
land portion
2299 $

Option 2** – double occupancy

2299 $
View details
01 to 30 june 2021
land portion
3649 $

Option 2** – single occupancy

3649 $
View details
01 to 30 june 2021
land portion
3349 $

Option 3 – double occupancy

3349 $
View details
01 to 30 june 2021
land portion
5049 $

Option 3 – single occupancy

5049 $
View details
01 july to 30 sept. 2021
land portion
2049 $

Option 1 – double occupancy

2049 $
View details
01 july to 30 sept. 2021
land portion
2899 $

Option 1 – single occupancy

2899 $
View details
01 july to 30 sept. 2021
land portion
2299 $

Option 2** – double occupancy

2299 $
View details
01 july to 30 sept. 2021
land portion
3649 $

Option 2** – single occupancy

3649 $
View details
01 july to 30 sept. 2021
land portion
3349 $

Option 3 – double occupancy

3349 $
View details
01 july to 30 sept. 2021
land portion
5049 $

Option 3 – single occupancy

5049 $
View details
01 to 31 oct. 2021
land portion
2349 $

Option 1 – double occupancy

2349 $
View details
01 to 31 oct. 2021
land portion
3449 $

Option 1 – single occupancy

3449 $
View details
01 to 31 oct. 2021
land portion
2699 $

Option 2** – double occupancy

2699 $
View details
01 to 31 oct. 2021
land portion
4249 $

Option 2** – single occupancy

4249 $
View details
01 to 31 oct. 2021
land portion
3849 $

Option 3 – double occupancy

3849 $
View details
01 to 31 oct. 2021
land portion
5999 $

Option 3 – single occupancy

5999 $
View details

DAILY DEPARTURES
** PROMOTION INCLUDED RESERVATIONS MADE BEFORE APRIL 30, 2021 FOR A STAY BETWEEN MAY AND OCTOBER 2021 (OPTION 2)
†RÉDUCTION APPLICABLE FOR A STAY BETWEEN THE APRIL 25 AND 30 (ON REQUEST)
Our price

includes :
10 nights accommodation in Mauritius Island
All-inclusive
Group transfers with English assistance
Our prices do
not include

:
International flights
Tips to guides, drivers and hotel staff
Optional excursions
HOTELS

:

OPTION 1
BELLE MARE : Émeraude Beach Attitude, Standard room 3 stars
OPTION 2
LE MORNE : Riu Le Morne, Parital ocean view room 4 stars
OPTION 3
BEL OMBRE : Outrigger Mauritius Beach Resort, Ocean view room 5 stars
OPTIONAL EXCURSIONS

 :

PRICE PER PERSON, $ CAD – English group
North island excursion - Full day including lunch: Port-Louis, Fort Adelaide, Chinatown, Central Market, Botanical Garden Pamplemousse, Grand Baie, Cap Malheureux. (L) $ 180
Île aux cerfs - Full day including lunch and a selection of drinks during the meal: Trou d'Eau Douce, Île aux Cerfs, Mangénie islet and Grand River South East waterfall. Not included: parasailing, underwater walk and lobster with meal. (L) $ 185
Colorful South excursion  - Full day including lunch: Curepipe, Volcanic Crater of Trou-Aux-Cerfs, Port ship model factory and showroom, typical wine factory, sacred lake of Grand Bassin, Black River gorges, Village of Chamarel, rum factory and land of the seven colors. Wine and rum tasting included. (L) $ 215
Authentic South - Full day including lunch: Ile aux Aigrettes nature reserve, traditional cookie factory with tasting, Mahebourg fish- ing Village, museum of naval history. (L) $ 220
Catamaran West of the Island - Full day including lunch and a selection of drinks during the meal: Tamarin & Black River Bay , snorkeling, crystal rock, Ile aux Benitiers. (L) $ 260