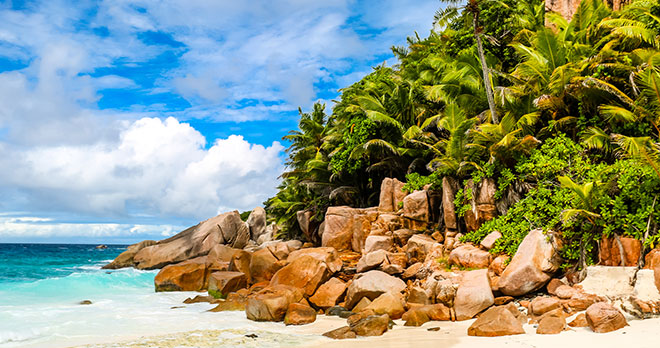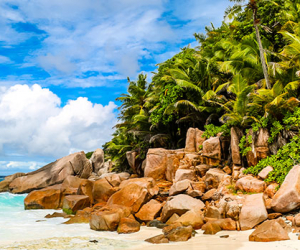 Visited Countries:
Seychelles
Complete your stay of a catamaran cruise in the Seychelles with stays in two different areas of Mahe or combine with the Island of Praslin. Ideally located within a 2-minute walk from the catamaran marina, your first hotel will be your base as you start your wonderful vacation. If you prefer you can just do a hotel stay.
Updated February 8, 2021.
day 1


MAHE: EDEN ISLAND – WELCOME TO THE SEYCHELLES
Arrival at Mahe airport. Welcome with a flower lei and transfer to your hotel for 2 nights including breakfast. The Eden Bleu is the first choice for a short luxury getaway near the prestigious Eden Island Marina.
Day at leisure to discover this wonderful area of the marina with its shops, restaurants, night- life and proximity to Victoria, the capital of the island, or the marina ideal for embarking on an evening cruise at sunset. (B)
day 3


EDEN ISLAND – BEAU VALLON (MAHE) OR ANSE VOLBERT (PRASLIN)
Today you will continue your journey by boarding your separately booked catamaran cruise or continue with the continuation of your stay on Mahe or Praslin. Upon debarkation you will be transferred to your next hotel located in Beau Vallon on the island of Mahe or in Anse Volbert on the island of Praslin for 5 nights including breakfast and dinner. (B, D)
day 4 to 7


MAHE OR PRASLIN ISLAND
Use these days to explore at your leisure. Mahe offers a range of activities and attractions from the magnificent Beau Vallon beach to hiking to art galleries. In Praslin, enjoy the most beautiful beaches on the island or complete your stay with various activities according to your tastes. (B, D)
day 8


MAHE OR PRASLIN – MAHE
After a wonderful stay in the Seychelles, transfer to the airport. Oplezir! Goodbye until next time. (B)
B BREAKFAST / L LUNCH / D DINNER
Departure
Dates
Price per person, $CDN, based on 2 people/room

Prices subject to change

Dates
Airline
Lowest Price
Notes
Regular Price
Details
01 to 31 may 2021
land portion
1949 $

Option 1 – double occupancy

1949 $
View details
01 to 31 may 2021
land portion
3199 $

Option 1 – single occupancy

3199 $
View details
01 to 31 may 2021
land portion
3149 $

Option 2 – double occupancy

3149 $
View details
01 to 31 may 2021
land portion
5099 $

Option 2 – single occupancy

5099 $
View details
01 to 30 june 2021
land portion
1899 $

Option 1 – double occupancy

1899 $
View details
01 to 30 june 2021
land portion
3099 $

Option 1 – single occupancy

3099 $
View details
01 to 30 june 2021
land portion
3149 $

Option 2 – double occupancy

3149 $
View details
01 to 30 june 2021
land portion
5099 $

Option 2 – single occupancy

5099 $
View details
01 to 22 july 2021
land portion
1949 $

Option 1 – double occupancy

1949 $
View details
01 to 22 july 2021
land portion
3199 $

Option 1 – single occupancy

3199 $
View details
01 to 22 july 2021
land portion
3149 $

Option 2 – double occupancy

3149 $
View details
01 to 22 july 2021
land portion
5099 $

Option 2 – single occupancy

5099 $
View details
23 to 31 july 2021
land portion
2149 $

Option 1 – double occupancy

2149 $
View details
23 to 31 july 2021
land portion
3549 $

Option 1 – single occupancy

3549 $
View details
23 to 31 july 2021
land portion
3149 $

Option 2 – double occupancy

3149 $
View details
23 to 31 july 2021
land portion
5099 $

Option 2 – single occupancy

5099 $
View details
01 to 23 aug. 2021
land portion
2149 $

Option 1 – double occupancy

2149 $
View details
01 to 23 aug. 2021
land portion
3549 $

Option 1 – single occupancy

3549 $
View details
01 to 23 aug. 2021
land portion
4049 $

Option 2 – double occupancy

4049 $
View details
01 to 23 aug. 2021
land portion
7499 $

Option 2 – single occupancy

7499 $
View details
24 aug. to 05 sept. 2021
land portion
2149 $

Option 1 – double occupancy

2149 $
View details
24 aug. to 05 sept. 2021
land portion
3549 $

Option 1 – single occupancy

3549 $
View details
24 aug. to 05 sept. 2021
land portion
3149 $

Option 2 – double occupancy

3149 $
View details
24 aug. to 05 sept. 2021
land portion
5099 $

Option 2 – single occupancy

5099 $
View details
06 to 30 sept. 2021
land portion
1899 $

Option 1 – double occupancy

1899 $
View details
06 to 30 sept. 2021
land portion
3099 $

Option 1 – single occupancy

3099 $
View details
06 to 30 sept. 2021
land portion
3149 $

Option 2 – double occupancy

3149 $
View details
06 to 30 sept. 2021
land portion
5099 $

Option 2 – single occupancy

5099 $
View details
01 to 31 oct. 2021
land portion
2149 $

Option 1 – double occupancy

2149 $
View details
01 to 31 oct. 2021
land portion
3549 $

Option 1 – single occupancy

3549 $
View details
01 to 31 oct. 2021
land portion
3149 $

Option 2 – double occupancy

3149 $
View details
01 to 31 oct. 2021
land portion
5099 $

Option 2 – single occupancy

5099 $
View details

PROMOTION INCLUDED IN THE PRICE IF RESERVED 120 DAYS IN ADVANCE (OPTION 1) OR 45 DAYS IN ADVANCE (OPTION 2)
RATES FOR THE MARCH 29 TO APRIL 11 ON REQUEST
Our price

includes :
2 nights accommodation on Eden Island, Mahe
5 nights accommodation Beau Vallon, Mahe (option1) or Anse Volert, Praslin Island (option 2)
12 meals : 7 breakfasts, 5 dinners
Round trip ferry crossing to the island of Praslin economy class (option 2)
Group transfers with English assistance
Welcome with flowerlei
Our prices do
not include

:
International flight
Meals and drinks not mentioned
Catamaran cruise (refer to pages 94 and 95) and transfer between Eden Bleu Hotel and the marina (2 minute walk)
Optional excursions
Tips for guides, drivers and hotel staff
HOTELS

:

OPTION 1
Mahe : Eden Bleu Hôtel, Standard room 4 stars & Coral Strand, Standard ocean view room 4 stars
OPTION 2
Mahe : Eden Bleu Hôtel, Standard room 4 stars
Praslin : Paradise Sun Hotel Seychelles, Superior room 4 stars
OPTIONAL EXCURSIONS

 :

PRICE PER PERSON, $ CAD – English group

Minimum of 4 to 6 participants depending on the excursion. Entrance fees to the following sites not included. (Vallée de Mai, Curieuse, Cousin)

MAHÉ
Full day tour of Mahe including lunch $ 170 
Full day tour to Marine Park from Mahe including lunch $ 285
PRASLIN
Snorkeling excursion to Anse La Farine on Praslin Island $ 170
Full Day Praslin excursion of Vallee de Mai and Anse Lazio $ 195
Excursion to the islands of Cousin, Curieuse & St Pierre from Praslin including lunch $ 355
LA DIGUE
Half-day snorkeling trip to Coco and Félicité Islands (without meals) $ 150
Full day on the islands of Big Sister, Coco and Félicité with dinner $ 310