Seychelles iconic trio islands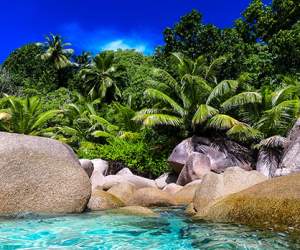 Visited Countries:
Seychelles
92For a complete stay in the Seychelles, combine Mahe, Praslin and La Digue. These three islands constitute the economic and tourist center of the Seychelles, has the most tourist sites, lodgings, and population of the archipelago.
Updated February 8, 2021.
day 1


MAHE – WELCOME TO THE SEYCHELLES
Arrival at Mahe airport. Welcome with a flower lei and transfer to your hotel for 4 nights including breakfast. Mahe, is the main island with the city of Victoria being one of the smallest capital cities in the world, and the cultural and economic center of the nation. Day at leisure.
The island has a wide choice of cultural and ecotourism attraction, great restaurants, bars, cafes, and casinos, as well as diving centers, fishing, and sail boats along with hiking tours. Days at leisure to discover the island. (B)
Transfer to the port of Mahe for the ferry crossing to Praslin Island the second largest island in the Seychelles, welcome and trans- fer to your hotel for the next 3 nights including breakfast. Praslin unique vegetation was once considered to be the original Garden of Eden. Day at leisure. (B)
Take advantage of these days at leisure to discover the extraordinary "Vallée de Mai", an ancient forest of giant palm trees and the famous "coco de mer" but also one of the rarest birds in the world: the black parrot. Take a swim on one of the most famous beaches in the world, the magnificent Anse Lazio, and enjoy delicious Creole cuisine while admiring the ocean, feet in the sand. (B)
Transfer to the port of Praslin for the 30 minute ferry crossing to the island of La Digue. Welcome and transfer to your hotel for the next 2 nights including breakfast. La Digue is a magical island that will transport you to the past, with its bicycles and oxcarts. Enjoy the island at your leisure. (B)
La Digue is one of the most interesting places to enjoy the island lifestyle at a very relaxing pace. The friendly atmosphere of this intimate island with its languorous pace of life, traditional architecture, and breathtaking beaches, like legendary Anse Source d'Argent, an absolute must for visitors. Enjoy the day to discover La Digue at your leisure. (B)
day 10


LA DIGUE – MAHE – DEPARTURE
After a magnificent journey filled with count- less memories to be shared of the beautiful Seychelles Islands. Transfer to the port of La Digue for the return ferry to the island of Mahe, welcome and transfer to the airport for your flights back home. (B)
B BREAKFAST / L LUNCH / D DINNER
Departure
Dates
Price per person, $CDN, based on 2 people/room

Prices subject to change

Dates
Airline
Lowest Price
Notes
Regular Price
Details
11 avr. to 05 may 2021
land portion
2349 $

Option 1 – double occupancy

2349 $
View details
11 avr. to 05 may 2021
land portion
4199 $

Option 1 – single occupancy

4199 $
View details
11 avr. to 05 may 2021
land portion
3699 $

Option 2 – double occupancy

3699 $
View details
11 avr. to 05 may 2021
land portion
6499 $

Option 2 – single occupancy

6499 $
View details
11 avr. to 05 may 2021
land portion
4799 $

Option 3 – double occupancy

4799 $
View details
11 avr. to 05 may 2021
land portion
8599 $

Option 3 – single occupancy

8599 $
View details
06 to 20 may 2021
land portion
2349 $

Option 1 – double occupancy

2349 $
View details
06 to 20 may 2021
land portion
4199 $

Option 1 – single occupancy

4199 $
View details
06 to 20 may 2021
land portion
3699 $

Option 2 – double occupancy

3699 $
View details
06 to 20 may 2021
land portion
6449 $

Option 2 – single occupancy

6449 $
View details
06 to 20 may 2021
land portion
4799 $

Option 3 – double occupancy

4799 $
View details
06 to 20 may 2021
land portion
8449 $

Option 3 – single occupancy

8449 $
View details
21 may to 10 june 2021
land portion
2349 $

Option 1 – double occupancy

2349 $
View details
21 may to 10 june 2021
land portion
4199 $

Option 1 – single occupancy

4199 $
View details
21 may to 10 june 2021
land portion
3599 $

Option 2 – double occupancy

3599 $
View details
21 may to 10 june 2021
land portion
6299 $

Option 2 – single occupancy

6299 $
View details
21 may to 10 june 2021
land portion
4299 $

Option 3 – double occupancy

4299 $
View details
21 may to 10 june 2021
land portion
7599 $

Option 3 – single occupancy

7599 $
View details
11 to 30 june 2021
land portion
2349 $

Option 1 – double occupancy

2349 $
View details
11 to 30 june 2021
land portion
4199 $

Option 1 – single occupancy

4199 $
View details
11 to 30 june 2021
land portion
3399 $

Option 2 – double occupancy

3399 $
View details
11 to 30 june 2021
land portion
5899 $

Option 2 – single occupancy

5899 $
View details
11 to 30 june 2021
land portion
4299 $

Option 3 – double occupancy

4299 $
View details
11 to 30 june 2021
land portion
7599 $

Option 3 – single occupancy

7599 $
View details
01 to 13 july 2021
land portion
2349 $

Option 1 – double occupancy

2349 $
View details
01 to 13 july 2021
land portion
4199 $

Option 1 – single occupancy

4199 $
View details
01 to 13 july 2021
land portion
3449 $

Option 2 – double occupancy

3449 $
View details
01 to 13 july 2021
land portion
5949 $

Option 2 – single occupancy

5949 $
View details
01 to 13 july 2021
land portion
4499 $

Option 3 – double occupancy

4499 $
View details
01 to 13 july 2021
land portion
7949 $

Option 3 – single occupancy

7949 $
View details
14 to 31 july 2021
land portion
2349 $

Option 1 – double occupancy

2349 $
View details
14 to 31 july 2021
land portion
4199 $

Option 1 – single occupancy

4199 $
View details
14 to 31 july 2021
land portion
3699 $

Option 2 – double occupancy

3699 $
View details
14 to 31 july 2021
land portion
6499 $

Option 2 – single occupancy

6499 $
View details
14 to 31 july 2021
land portion
4949 $

Option 3 – double occupancy

4949 $
View details
14 to 31 july 2021
land portion
8799 $

Option 3 – single occupancy

8799 $
View details
01 to 25 aug. 2021
land portion
2349 $

Option 1 – double occupancy

2349 $
View details
01 to 25 aug. 2021
land portion
4199 $

Option 1 – single occupancy

4199 $
View details
01 to 25 aug. 2021
land portion
3699 $

Option 2 – double occupancy

3699 $
View details
01 to 25 aug. 2021
land portion
6499 $

Option 2 – single occupancy

6499 $
View details
01 to 25 aug. 2021
land portion
5349 $

Option 3 – double occupancy

5349 $
View details
01 to 25 aug. 2021
land portion
9499 $

Option 3 – single occupancy

9499 $
View details
26 aug. to 30 sept. 2021
land portion
2349 $

Option 1 – double occupancy

2349 $
View details
26 aug. to 30 sept. 2021
land portion
4199 $

Option 1 – single occupancy

4199 $
View details
26 aug. to 30 sept. 2021
land portion
3699 $

Option 2 – double occupancy

3699 $
View details
26 aug. to 30 sept. 2021
land portion
6449 $

Option 2 – single occupancy

6449 $
View details
26 aug. to 30 sept. 2021
land portion
4799 $

Option 3 – double occupancy

4799 $
View details
26 aug. to 30 sept. 2021
land portion
8499 $

Option 3 – single occupancy

8499 $
View details
01 to 10 oct. 2021
land portion
2349 $

Option 1 – double occupancy

2349 $
View details
01 to 10 oct. 2021
land portion
4199 $

Option 1 – single occupancy

4199 $
View details
01 to 10 oct. 2021
land portion
3699 $

Option 2 – double occupancy

3699 $
View details
01 to 10 oct. 2021
land portion
3449 $

Option 2 – single occupancy

3449 $
View details
01 to 10 oct. 2021
land portion
5149 $

Option 3 – double occupancy

5149 $
View details
01 to 10 oct. 2021
land portion
9199 $

Option 3 – single occupancy

9199 $
View details
11 to 31 oct. 2021
land portion
2349 $

Option 1 – double occupancy

2349 $
View details
11 to 31 oct. 2021
land portion
4199 $

Option 1 – single occupancy

4199 $
View details
11 to 31 oct. 2021
land portion
3699 $

Option 2 – double occupancy

3699 $
View details
11 to 31 oct. 2021
land portion
3499 $

Option 2 – single occupancy

3499 $
View details
11 to 31 oct. 2021
land portion
5199 $

Option 3 – double occupancy

5199 $
View details
11 to 31 oct. 2021
land portion
9249 $

Option 3 – single occupancy

9249 $
View details

DAILY DEPARTURES
PROMOTION INCLUDED IN THE PRICE IF RESERVED 90 DAYS IN ADVANCE (OPTION 1 & 3) OR 60 DAYS IN ADVANCE (OPTION 2)
tREDUCTION APPLICABLE POUR FOR A STAY BETWEEN MAY 11 TO 20 AND JULY 1 TO 5 (ON REQUEST)
Our price

includes :
4 nights accommodation in Mahe
3 nights accommodation in Praslin
2 nights accommodation in La Digue
Breakfasts
Round trip ferry crossing to the islands of Praslin & La Digue in economy class
Group transfers with English assistance
Welcome with flowerlei
Our price does
not include

:
International flight
Meals and drinks not mentioned
Optional excursions
Tips for guides, drivers and hotel staff
Hotels

:

OPTION 1
Mahe : Valmer Resort & Spa, Garden studio 3 stars
Praslin : Le Domaine de La Réserve,Superior Colonial room 4 stars
La Digue : Patatran Village Hôtel, Standard room 3 stars
OPTION 2
Mahe : Carana Beach Hôtel, Ocean view chalet 4 stars
Praslin : Coco de Mer Hôtel and Black, Parrot suites standard room 4 stars
La Digue : Le Domaine de L'Orangeraie Resort & Spa, Charming elegant villa 4 stars
OPTION 3
Mahe : Kempinski Seychelles Resort, Ocean view room 5 stars
Praslin : Constance Lemuria Resort, Junior suite 5 stars
La Digue : Le Domaine de L'Orangeraie Resort & Spa, Charming elegant villa 4 stars
OPTIONAL EXCURSIONS

 :

PRICE PER PERSON, $ CAD – English group

Minimum of 4 to 6 participants depending on the excursion. Entrance fees to the following sites not included. (Vallée de Mai, Curieuse, Cousin)

MAHÉ
Full day tour of Mahe including lunch $ 170 
Full day tour to Marine Park from Mahe including lunch $ 285
PRASLIN
Snorkeling excursion to Anse La Farine on Praslin Island $ 170
Full Day Praslin excursion of Vallee de Mai and Anse Lazio $ 195
Excursion to the islands of Cousin, Curieuse & St Pierre from Praslin including lunch $ 355
LA DIGUE
Half-day snorkeling trip to Coco and Félicité Islands (without meals) $ 150
Full day on the islands of Big Sister, Coco and Félicité with dinner $ 310