5 stars STAY IN THE MALDIVES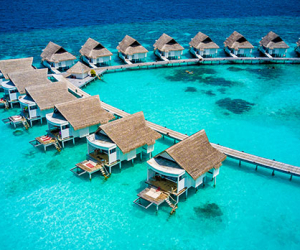 Visited Countries:
Maldives
Centara Grand Island Resort & Spa 5 stars
This luxury hotel located in the south of the Ari Atoll offers a haven for water sport enthusiasts for both family or couples. With 112 beach and overwater suites offering access to its crystal clear blue lagoon and its coral garden. Guests will enjoy a minibar, internet wireless access, flat-screen TVS, DVD player, air-conditioning, telephone , ceiling fan, coffee maker, safety box and hair dryer. Several high-end services such as the PADI diving center, the fitness center on stilts, a swimming pool and the sea view spa, the 3 restaurants, the 3 bars and the ultimate all-inclusive package.
Updated February 8, 2021.
Tours Chanteclerc
Benefits
Our price

includes :
5 nights accommodation in selected room category
Group speed boat transfers with English assistance
ULTIMATE ALL-inclusive includes
14 meals: 5 breakfasts, 4 lunches & 5 dinners (buffet style)
Welcome drink
Soft drinks and mineral water (24 hours)
Selection of wines (red, white & sparkling), spirits, beer and cocktails, filtered coffee, selection of teas and juices (10:00am to midnight)
House wine, beers, soft drinks, tea, and coffee available in restaurants only
Afternoon tea and snacks
Sunset snacks and tapas
Minibar stocked daily with a selection of soft drink and beers **
Non motorized water sports: canoes, pedal boats, and snorkeling equipment (fin, mask, and snorkel)
Selected excursions (operated depending on the weather and reservations made locally 1 per stay) such as snorkeling, sunset cruise, or discovering the island
Spa credit of $100 per adult per stay, reservation locally
Fitness center, tennis and volleyball
Wifi access
Club Privileges (included with option 4 other categories on request) :
Access to the Island Club with private indoor and outdoor lounges as well as the upscale dining room for breakfast, lunch and dinner
Access to the Island Club free-form pool including refreshing towels, pre-dinner snacks, afternoon fruit and canapes before dinner
Access to the Club Bar and lounge serving branded drinks
Premium minibar filled daily with a selection of
2 bottles of wine (red, white, rosé or sparkling), soft drinks, juices, beers, chocolates and snacks
Mid-morning snacks
Club lounge check-in
Priority reservations at the spa and restaurants
Wifi and internet services in the Club lounge
Cleaning service : 2 pieces of linen per room and per day
Turn down service every day
Access to the library for books and DVDs
Improved room amenities
Our prices does
not include

:
International flights
Club Privilege (included with option 4) other categories on request
Specialty wines and special beverages
Room service
Departure tax $ 50 US per person
Optional excursions
Tips to guides, drivers and hotel staff
** If an additonal restocking of the minibar is required, a charge will apply.
At all times wine is served by the glass . Request of bottles will be charged.
Departure
Dates
Price per person, $CDN, based on 2 people/room

Prices subject to change

Dates
Airline
Lowest Price
Notes
Regular Price
Details
11 to 30 avr. 2021
land portion
3599 $

Option 1 – Beach Suite

3599 $
View details
11 to 30 avr. 2021
land portion
4149 $

Option 2 – Deluxe villa on stilts

4149 $
View details
11 to 30 avr. 2021
land portion
4549 $

Option 3 – Ocean stilt villa

4549 $
View details
11 to 30 avr. 2021
land portion
5349 $

Option 4 – Ocean stilt villa sunset with private pool and Club privileges

5349 $
View details
01 may to 31 july 2021
land portion
3549 $

Option 1 – Beach Suite

3549 $
View details
01 may to 31 july 2021
land portion
4149 $

Option 2 – Deluxe villa on stilts

4149 $
View details
01 may to 31 july 2021
land portion
4549 $

Option 3 – Ocean stilt villa

4549 $
View details
01 may to 31 july 2021
land portion
5399 $

Option 4 – Ocean stilt villa sunset with private pool and Club privileges

5399 $
View details
01 to 31 aug. 2021
land portion
3649 $

Option 1 – Beach Suite

3649 $
View details
01 to 31 aug. 2021
land portion
4249 $

Option 2 – Deluxe villa on stilts

4249 $
View details
01 to 31 aug. 2021
land portion
4649 $

Option 3 – Ocean stilt villa

4649 $
View details
01 to 31 aug. 2021
land portion
5499 $

Option 4 – Ocean stilt villa sunset with private pool and Club privileges

5499 $
View details
01 to 30 sept. 2021
land portion
3549 $

Option 1 – Beach Suite

3549 $
View details
01 to 30 sept. 2021
land portion
4149 $

Option 2 – Deluxe villa on stilts

4149 $
View details
01 to 30 sept. 2021
land portion
4549 $

Option 3 – Ocean stilt villa

4549 $
View details
01 to 30 sept. 2021
land portion
5399 $

Option 4 – Ocean stilt villa sunset with private pool and Club privileges

5399 $
View details
01 to 31 oct. 2021
land portion
3649 $

Option 1 – Beach Suite

3649 $
View details
01 to 31 oct. 2021
land portion
4249 $

Option 2 – Deluxe villa on stilts

4249 $
View details
01 to 31 oct. 2021
land portion
4649 $

Option 3 – Ocean stilt villa

4649 $
View details
01 to 31 oct. 2021
land portion
5499 $

Option 4 – Ocean stilt villa sunset with private pool and Club privileges

5499 $
View details
01 nov. to 23 dec. 2021
land portion
4149 $

Option 1 – Beach Suite

4149 $
View details
01 nov. to 23 dec. 2021
land portion
4749 $

Option 2 – Deluxe villa on stilts

4749 $
View details
01 nov. to 23 dec. 2021
land portion
5149 $

Option 3 – Ocean stilt villa

5149 $
View details
01 nov. to 23 dec. 2021
land portion
5999 $

Option 4 – Ocean stilt villa sunset with private pool and Club privileges

5999 $
View details

DAILY DEPARTURES
PRICES FOR RESERVATION 90 DAYS IN ADVANCE

SUPPLEMENTS FOR FESTIVE DINERS ON REQUEST

SINGLE SUPPLEMENT ON REQUEST