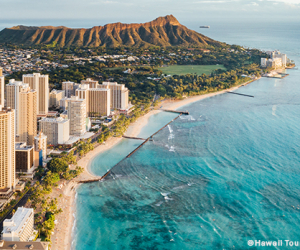 Visited Countries:
French Polynesia

,

Hawaii

Hawaii and Tahiti are alike in their Polynesian culture and their breathtaking panoramas, but you will live completely different experiences. For an extraordinary getaway, combine the excitement and calm of both destination in one trip.
Updated February 8, 2021.
day 1


OAHU (HONOLULU) – WELCOME
Arrival at Honolulu airport on the island of Oahu. Aloha and welcome to Hawaii! Welcome with flower lei at the airport and transfer to your ho- tel for the next 5 nights.
These 4 days at leisure will allow you to discover the city life and the legendary beaches of Oahu. Be sure to visit Honolulu's Waikiki district or head to the Diamond Head viewpoint for a spectacular view. (B)
day 6


OAHU – TAHITI (FRENCH POLYNESIA) – WELCOME
Transfer to the airport for your flight (not included) to Papeete in Tahiti, this mythical island of French Polynesia. Ia Orana! Welcome with flower lei at the airport and transfer to your hotel for the next 2 nights. Enjoy the rest of the day. (B)
Take advantage of this day at leisure to visit downtown Papeete with its colorful market, the ideal place to chat with the welcoming Tahitians. In the afternoon, you can join an island tour to discover the beauty of Tahiti. In the evening, be sure to visit the popular food truck restaurants. (B)
Transfer to the port of Papeete for the ferry crossing to the island of Moorea, Tahiti's sister island. Transfer to your hotel for the next 3 nights where you will have the opportunity to live the experience of an authentic overwater bungalow. Enjoy the rest of the day. (B, D)
Moorea is a fascinating island thanks to the wild beauty of its mountains with its peak shaped points. Be sure to go to the Belvedere for a spectacular panoramic view. Moorea will show you all its secrets during these 2 days at leisure. (B, D)
After an extraordinary, combined stay in the Pacific, transfer to the port for the ferry back to Tahiti, then transport to the airport. (B)
B BREAKFAST / L LUNCH / D DINNER
Departure
Dates
Price per person, $CDN, based on 2 people/room

Prices subject to change

Dates
Airline
Lowest Price
Notes
Regular Price
Details
01 avr. to 31 may 2021
land portion
3299 $

Option 1

3299 $
View details
01 avr. to 31 may 2021
land portion
3399 $

Option 2

3399 $
View details
01 avr. to 31 may 2021
land portion
4249 $

Option 3

4249 $
View details
01 to 30 june 2021
land portion
3399 $

Option 1

3399 $
View details
01 to 30 june 2021
land portion
3399 $

Option 2

3399 $
View details
01 to 30 june 2021
land portion
4249 $

Option 3

4249 $
View details
01 july to 31 oct. 2021
land portion
3399 $

Option 1

3399 $
View details
01 july to 31 oct. 2021
land portion
3599 $

Option 2

3599 $
View details
01 july to 31 oct. 2021
land portion
4249 $

Option 3

4249 $
View details
01 to 30 nov. 2021
land portion
3299 $

Option 1

3299 $
View details
01 to 30 nov. 2021
land portion
3399 $

Option 2

3399 $
View details
01 to 30 nov. 2021
land portion
4099 $

Option 3

4099 $
View details
01 to 17 dec. 2021
land portion
3299 $

Option 1

3299 $
View details
01 to 17 dec. 2021
land portion
3299 $

Option 2 (t)

3299 $
View details
01 to 17 dec. 2021
land portion
4099 $

Option 3

4099 $
View details

DAILY DEPARTURES
MINIMUM 2 PERSONNES
† : reservation booked 90 days in advance t : reservation booked 150 days in advance

Overwater bungalow in Moorea, per person for the 3 nights:

OPTION1: $ 645 (April, May, November & December), $ 765 (June to October)

OPTION 2: $ 300† (December), $ 345† (April to June & November), $ 285 † (July to October)

OPTION 3: $ 510 t (November & December), $ 645 t (April to October)
Our price

includes :
5 nights accommodation in Oahu
2 nights accommodation in Tahiti
3 nights accommodation in Moorea
13 meals : 10 breakfasts & 3 dinners
Welcome with flower lei in Honolulu & Tahiti
Roundtrip ferry crossing between Tahiti & Moorea
Group transfers with English assistance in Oahu and in French in Tahiti and Moorea
Hotel tax in Oahu
Our prices does
not include

:
International flights
Domestique flight between Oahu & Tahiti
Meals and drinks not mentioned
Optional excursions
Tips for guides, drivers and hotel staff
City tax payable at destination in French
Polynesia, per person per night: ± $ 3 in Moorea & ± $10 in Tahiti
Hotels

:

OPTION 1
OAHU : Ramada Plaza Waikiki, Run of the House 3 stars
TAHITI : Tahiti Ia Ora Beach Resort, Superior Garden Room 4 stars
MOOREA : Sofitel Ia Ora Beach Resort, Deluxe Garden Bungalow 4 stars
OPTION 2
OAHU : Ramada Plaza Waikiki, Run of the House 3 stars
TAHITI : Manava Suite Resort, Garden Studio Room 3 stars
MOOREA : Manava Beach Resort, Garden Bungalow Private Pool 4 stars
OPTION 3
OAHU : Aston Waikiki Beach Hotel, partial ocean view room 4 stars
TAHITI : Tahiti Ia Ora Beach Resort, Superior Garden Room 4 stars
MOOREA : Hilton Lagoon Resort & Spa Garden Bungalow Private Pool 5 stars
OPTIONAL EXCURSIONS

 :

PRICE PER PERSON, $ CAD – English group
Oahu : Pearl Harbor and City Tour - Punchbowl Crater, Honolulu and Pearl Harbor. Duration: 5.5 hours $ 110
Oahu : Majestic Island Tour - Natural wonders, local foods, and cultural sites. Byodo-In Temple, North coast Beaches, Waimea Valley, Dole Plantation, Blow Hole & Halona Creek along with Hanauma Lookout. Duration: 8 hours $ 220
Maui : Humpback Whale Observation - Morning or afternoon departure with lunch or dinner and open bar include. December 15 to April 15 only. Transfer to the port of Lahaina or Ma'aleaea not included. Duration: 8 hours (L or D) $ 170
Maui : Spectacular Sunrise in Haleakala - One of the most sought-after experiences. On the way to the top, you will see the magnificent silver saber plant, ancient sacred places and breath- taking views. Departs a 02:00 am lunch included Duration : 10 hours. (L) $ 370
Maui : Hana Route - Famous scenic drive with scheduled stops in Pa'ia Town, Kaumahina State Park, South Wailua Falls, Kaupo and Hana Farms. Continental breakfast included. Duration:12 hours. (B) $ 355