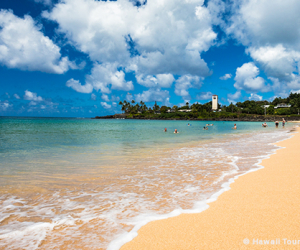 Visited Countries:
Hawaii
With a long stay in the Hawaiian archipelago, you will have the opportunity to live to the rhythm of the locals and appreciate the destination from all angles. We offer two options, one on Oahu, the main island known for Waikiki beach in the city of Honolulu, as well as a second option combining Oahu and Maui, famous for its beaches and enchanting vegetation.
Updated February 8, 2021.
day 1


HONOLULU, OAHU – ARRIVAL
Aloha and welcome to Hawaii! Flower lei welcome and transfer to your hotel for the next 14 or 28 nights. Rest of the day to soak up the atmosphere that will carry you through the coming weeks.
During your stay, you will have the opportunity to experience a variety of activities depending on your likes. Do not miss including Honolulu and its tropical glamor, the different regions of the island, Pearl Harbor, historical monuments, secluded beaches, peaceful bays, the lush green coasts of the island or even the ideal waves for a surf lesson.
day 15


OAHU (OPTION 1) OR OAHU – MAUI (OPTION 2)
On the 15th day, you have two options: continue your stay on the island of Oahu to continue your experience, or set off to discover a second island, Maui. You will be able to discover all the charms of this destination during the next 14 nights. Flight to Maui not included.
Maui, "The Valley Island ", invites you to discover the picturesque villages, roadside farm stalls and heavenly beaches of the island. Hana Road is a must see with its waterfalls, lush forests, and bamboo jungles. The coast offers a dream setting, with majestic sunsets and sunrises from the top of Haleakala, desert landscapes and the fresh, local culinary delicacies.
day 29


OAHU OR MAUI – DEPARTURE
After a memorable and enjoyable stay in Hawaii, you will be transferred to the airport for your return flights home, your head spinning with great souvenirs of this jewel in the Pacific.
Departure
Dates
Price per person, $CDN, based on 2 people/room

Prices subject to change

Dates
Airline
Lowest Price
Notes
Regular Price
Details
01 mar. to 31 may 2021
land portion
5499 $

Option 1 – double occupancy

5499 $
View details
01 mar. to 31 may 2021
land portion
10899 $

Option 1 – single occupancy

10899 $
View details
01 mar. to 31 may 2021
land portion
6799 $

Option 2 – double occupancy

6799 $
View details
01 mar. to 31 may 2021
land portion
13299 $

Option 2 – single occupancy

13299 $
View details
01 to 14 june 2021
land portion
4699 $

Option 1 – double occupancy

4699 $
View details
01 to 14 june 2021
land portion
9249 $

Option 1 – single occupancy

9249 $
View details
01 to 14 june 2021
land portion
5999 $

Option 2 – double occupancy

5999 $
View details
01 to 14 june 2021
land portion
11649 $

Option 2 – single occupancy

11649 $
View details
15 june to 16 aug. 2021
land portion
5299 $

Option 1 – double occupancy

5299 $
View details
15 june to 16 aug. 2021
land portion
10449 $

Option 1 – single occupancy

10449 $
View details
15 june to 16 aug. 2021
land portion
6699 $

Option 2 – double occupancy

6699 $
View details
15 june to 16 aug. 2021
land portion
13049 $

Option 2 – single occupancy

13049 $
View details
17 to 31 aug. 2021
land portion
4899 $

Option 1 – double occupancy

4899 $
View details
17 to 31 aug. 2021
land portion
9699 $

Option 1 – single occupancy

9699 $
View details
17 to 31 aug. 2021
land portion
6499 $

Option 2 – double occupancy

6499 $
View details
17 to 31 aug. 2021
land portion
12699 $

Option 2 – single occupancy

12699 $
View details
01 to 30 sept. 2021
land portion
4899 $

Option 1 – double occupancy

4899 $
View details
01 to 30 sept. 2021
land portion
9699 $

Option 1 – single occupancy

9699 $
View details
01 to 30 sept. 2021
land portion
5849 $

Option 2 – double occupancy

5849 $
View details
01 to 30 sept. 2021
land portion
11399 $

Option 2 – single occupancy

11399 $
View details
01 oct. to 20 dec. 2021
land portion
4799 $

Option 1 – double occupancy

4799 $
View details
01 oct. to 20 dec. 2021
land portion
9399 $

Option 1 – single occupancy

9399 $
View details
01 oct. to 20 dec. 2021
land portion
6049 $

Option 2 – double occupancy

6049 $
View details
01 oct. to 20 dec. 2021
land portion
11749 $

Option 2 – single occupancy

11749 $
View details
Our price

includes :
28 nights accommodation in Oahu (option 1) or 14 nights accommodation in Oahu and 14 nights accommodation in Maui (option 2)
Welcome with flower lei in Oahu
Group transfers with English assistance
Hotel taxes
Our prices does
not include

:
International flights
Domestic flights between Oahu & Maui (option 2)
Meals and drinks not mentioned
Optional excursions
Tips for guides, drivers and hotel staff
Hotels

:

OPTION 1
Oahu : Ohana Waikiki East by Outrigger, Studio with kitchenette 3 stars
OPTION 2
Oahu : Ohana Waikiki East by Outrigger, Studio with kitchenette 3 stars
Maui : Aston at the Maui Banyan, Standard one-bedroom Suite with kitchen 3 stars
OPTIONAL EXCURSIONS

:

PRICE PER PERSON, $ CAD – English group
Oahu : Pearl Harbor and City Tour - Punchbowl Crater, Honolulu and Pearl Harbor. Duration: 5.5 hours $ 110
Oahu : Majestic Island Tour - Natural wonders, local foods, and cultural sites. Byodo-In Temple, North coast Beaches, Waimea Valley, Dole Plantation, Blow Hole & Halona Creek along with Hanauma Lookout. Duration: 8 hours $ 220
Maui : Humpback Whale Observation - Morning or afternoon departure with lunch or dinner and open bar include. December 15 to April 15 only. Transfer to the port of Lahaina or Ma'aleaea not included. Duration: 8 hours (L or D) $ 170
Maui : Spectacular Sunrise in Haleakala - One of the most sought-after experiences. On the way to the top, you will see the magnificent silver saber plant, ancient sacred places and breath- taking views. Departs a 02:00 am lunch included Duration : 10 hours. (L) $

370

Maui : Hana Route - Famous scenic drive with scheduled stops in Pa'ia Town, Kaumahina State Park, South Wailua Falls, Kaupo and Hana Farms. Continental breakfast included. Duration:12 hours. (B) $ 355