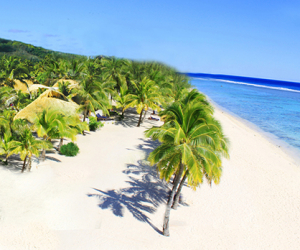 Visited Countries:
Cook Islands
Take your time to discover Rarotonga, a beautiful island of 32 kilometers on which there is no traffic lights. The island is a large accessible site where it is easy to get around.
Updated February 8, 2021.
Kia Orana! Welcome to the Cook Islands. Welcome and transfer to your hotel for the next 26 nights. You will have access to your room upon arrival. A half day island tour as well as a dinner show including traditional dances at the ancient mountain village Highland Paradise at Arorangi is included in your stay
Take advantage of your long stay to do some off the beaten path activities such as a 4×4 tour, horse back riding, a scenic flight, deep sea fishing, scuba diving or windsurfing or even sailing. You will not run out of activities to do on this island.
day 26


RAROTONGA - DEPARTURE
After a fun filled stay in the Cook Islands, you will be transferred to the airport for your departure back home.
B BREAKFAST / L LUNCH / D DINNER
Departure
Dates
Price per person, $CDN, based on 2 people/room

Prices subject to change

Dates
Airline
Lowest Price
Notes
Regular Price
Details
01 avr. to 31 may 2021
land portion
2799 $

Option 1 – double occupancy

2799 $
View details
01 avr. to 31 may 2021
land portion
5299 $

Option 1 – single occupancy

5299 $
View details
01 avr. to 31 may 2021
land portion
4899 $

Option 2 – double occupancy

4899 $
View details
01 avr. to 31 may 2021
land portion
9499 $

Option 2 – single occupancy

9499 $
View details
01 june to 31 oct. 2021
land portion
3399 $

Option 1 – double occupancy

3399 $
View details
01 june to 31 oct. 2021
land portion
6399 $

Option 1 – single occupancy

6399 $
View details
01 june to 31 oct. 2021
land portion
4899 $

Option 2 – double occupancy

4899 $
View details
01 june to 31 oct. 2021
land portion
9499 $

Option 2 – single occupancy

9499 $
View details
01 to 30 nov. 2021
land portion
2799 $

Option 1 – double occupancy

2799 $
View details
01 to 30 nov. 2021
land portion
5299 $

Option 1 – single occupancy

5299 $
View details
01 to 30 nov. 2021
land portion
4299 $

Option 2 – double occupancy

4299 $
View details
01 to 30 nov. 2021
land portion
8249 $

Option 2 – single occupancy

8249 $
View details
01 to 31 dec. 2021
land portion
2149 $

Option 1 – double occupancy

2149 $
View details
01 to 31 dec. 2021
land portion
3999 $

Option 1 – single occupancy

3999 $
View details
01 to 31 dec. 2021
land portion
4299 $

Option 2 – double occupancy

4299 $
View details
01 to 31 dec. 2021
land portion
8249 $

Option 2 – single occupancy

8249 $
View details

DAILY DEPARTURES
SEASONAL SUPPLEMENTS MAY APPLY
Our price

includes :
26 nights accommodation in Rarotonga with early check in
1 meal (option 1): 1 dinner show and fruit plate upon arrival in your room
27 meals (option 2) : 26 tropical breakfasts 1 dinner show
2 English group excursions: half day Island tour of Rarotonga and 1 dinner show Highland Paradise
Group transfers with English assistance
Welcome with flower lei
Our prices does
not include

:
International flights
Meals and drinks not mentioned
Optional excursions
Tips for guides, drivers and hotel staff
Hotels

:

OPTION 1
Rarotonga : Black Pearl Puaikura, Garden room 3 stars
OPTION 2
Rarotonga : Edgewater Resort, Lagoon view room 3 stars +
OPTIONAL EXCURSIONS

 :

PRICE PER PERSON, $ CAD – English group
Guided hike on the Island - An exhilarating 3 km hike lasting approximately 3 hours through the jungle to the base of " The Needle". (Difficult) $ 95
Lagoon cruise - Go on a glass-bottom boat to the sound of ukuleles to Muri Lagoon. Snorkeling among colorful marine life and barbecue fish dinner. 

$ 100

Umu & local culture excursion - Preparation and tasting of Umu (Earth Oven). Learn about local practices: fruits, vegetable, marine life, harvest, coconut and basketry. $ 105
Turtle safari - Swimming with turtles and tropical fish, an incredible experience to do with mask, snorkel, fins, and scooter. Eagle rays, moray eels and harmless reef sharks are sometimes present. $ 120
Dinner with show on the water at Te Vara Nui Village - Authentic and electrifying Maori cultural performance: Dancers, musicians, torches, and floating stages to the rhythm of the legend of Tongaiti. $ 130
Full day to Aitutaki Island - The easiest and most affordable option to experience the beauty of Aitutaki. 40 minute round trip flight, Island tour and lunch on board a lagoon cruise by catamaran to «One Foot Island». $ 55o