Moorea, Huahine & Bora Bora with Maitai Hotels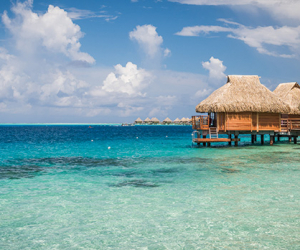 Visited Countries:
French Polynesia
MOOREA, the magical island
Located only ten nautical miles from Tahiti and less than 30 minutes away by ferry are the deep, spectacular bays and white sandy beaches of Moorea. The island is roughly shaped like a heart from overhead; and in the theme of love and romance, Moorea is one of the top honeymoon destinations in Tahiti, second only to Bora Bora. Take in volcanic peaks, reflected in the peaceful waters of Cook's Bay and Oponohu Bay, lush mountain slopes covered with rain forest or pineapple plantations, and white sandy beaches bordering blue lagoons. The Belvedere Lookout is probably one of the most spectacular lookouts in the world, located between Cook's and Oponohu Bay. Popular lagoon excursions include snorkeling, paddle boarding, cruising and fishing. During mating season (August to October) we highly recommend a whale watching tour. Another incredible experience is an encounter at the Moorea Dolphin Center, the only natural refuge where you can swim and play with dolphins. Embark on one of the local 4x4 excursions or play golf at the Moorea Green Pearl Golf Course designed by Jack Nicklaus. Visit the Moorea's Tiki Village for a traditional feast and authentic Polynesian dance show.
Huahine, the garden island
Huahine, nicknamed the "Garden of Eden", is only a 40-minute flight from the island of Tahiti. Enchanted Huahine, with its lush forests, untamed landscape and quaint villages, is one of Tahiti's best-kept secrets, a place where you can live like a local. A deep, crystal clear lagoon surrounds the two islands that compose Huahine, while magnificent bays and white sand beaches add drama to the experience. Relatively unchanged by the modern world, Huahine offers the slower, more restful pace of old Polynesia. With only eight small villages scattered across the island, the few residents welcome visitors with great kindness. Not surprisingly, this fertile world offers a rich soil providing the local farmers a bountiful harvest of vanilla, melons and bananas.
BORA BORA, JEWEL OF THE SOUTH SEAS
Bora Bora is one of the few places on earth that everyone hopes to see in their lifetime. Unquestionably the most romantic of the Pacific islands, it remains the island of all dreams. The inevitable love affair with this island begins right before you touch down. The view from the plane window is a moment you will not soon forget. Mount Otemanu and the turquoise lagoon and luxurious overwater bungalows somehow look even more spectacular than in the pictures. The wonderful thing about Bora Bora is that you can be as active or inactive as you wish to be. Bora Bora lagoon offers a multitude of activities and excursions. One of the most popular being the circle island tour including swimming with the rays including a motu picnic. Simply said, Bora Bora is the most beautiful island in the world.
Updated February 8, 2021.
Departure
Dates
Price per person, $CDN, based on 2 people/room

Prices subject to change

Dates
Airline
Lowest Price
Notes
Regular Price
Details

✓

From 18 to 29 july 2021
5799 $

(t)

5799 $
View details

✓

From 15 to 26 aug. 2021
5799 $

(t)

5799 $
View details

✓

From 19 to 30 sept. 2021
5799 $

(t)

5799 $
View details

✓

From 17 to 28 oct. 2021
5799 $

(t)

5799 $
View details

✓

From 14 to 25 nov. 2021
5299 $
5299 $
View details

✔ GUARANTEED DEPARTURE MINIMUM 2 PASSENGERS
$ 100 REDUCTION PER PERSON IF PAID BY CHEQUE
PRICED BASED ON G CLASS ECONOMY AIRFARE WITH AIR TAHITI NUI

† : FOR A RESERVATION BOOKED 90 DAYS IN ADVANCE

SUPPLEMENT OVERWATER BUNGALOW IN MOOREA, PER PERSON FOR THE 3 NIGHTS: †$ 330 (MAY & JUNE & NOVEMBER), $ 750 (JUNE TO OCTOBER)
SUPPLEMENT PREMIUM LAKE BUNGALOW IN HUAHINE, PER PERSON, FOR THE 3 NIGHTS: $ 135 (MAY & NOVEMBER) $ 150 (JUNE TO OCTOBER)
SUPPLEMENT OVERWATER BUNGALOW IN BORA BORA, PER PERSON FOR THE 3 NIGHTS: $ 645 (MAY & NOVEMBER) $ 735 (JUNE TO OCTOBER)
International flight from Los Angeles to Papeete in economy class with Air Tahiti Nui
3 nights in Moorea at the Manava Beach Resort in a garden bungalow with a private pool
3 nights in Huahine at the Maitai La Pita Village in a premium garden bungalow
3 nights in Bora Bora at the Maitai Polynesia in a garden view room
2 meals a day (breakfast and dinner)
Welcome with a traditional Polynesian flower lei
Inter island flights
All transfers between the airport and the hotels with English or French assistance
Airport taxes : $ 280
Our price does 
not include 

:
Flight between Montreal – Los Angeles
Meals and drinks not mentioned
Optional excursions
Tips for guides, drivers and hotel staff
City tax payable locally ± $ 3 per person and per night
✈ Our airline contracts do not allow us to make seat selections at any time.