PAUL GAUGUIN CRUISE – Marquesas, Tuamotu & Society Islands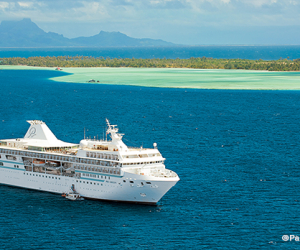 Visited Countries:
French Polynesia
Visit the most beautiful islands on Earth during 14 nights from Tahiti. Virtually unknown for centuries, the Marquesas are remote and offer a real glimpse of authentic Polynesia. On these rugged islands, a unique culture is rooted in unique places where the artist Paul Gauguin found his muse. Sailing in comfort in the luxury of the small ship M/S Paul Gauguin, you will travel to four Marquesas Islands through a special itinerary that also includes the Tuamotu archipelago, the heart of diving, as well as some of the most famous islands of the Society Islands archipelago.
Updated February 8, 2021.
Boarding of the M/S Paul Gauguin begins at 3:00pm. Welcome aboard for the next 7 nights. The Paul Gauguin is a luxurious vessel with understated elegance and a relaxed atmosphere, will warmly welcome you and be your home for the next 8 days, while offering you an endless choice of activities & entertainment. (D)
Sailing towards the island of Fakarava situated in the Tuamotu archipelago, second most visited archipelago in Polynesia, a paradise formed by coral atolls floating on a crystalline lagoon. (B, L, D)
Arrival in Fakarava in the morning. Between sky and sea, Fakarava is an atoll protected and classified as a biosphere reserve by UNESCO. This atoll is renowned for its exceptional diving sites and especially for its northern pass, Garuae, 800 meters wide, which allows you to encounter rare pelagic fauna and observe corals of exceptional beauty. You will leave at the end of the day for a beautiful day at sea towards Taha'a. (B, L, D)
Sailing to the Marquesas Islands archipelago. So aptly baptized, Henua Enana, "the land of men", by the Polynesians who populated them 2,000 years ago, the Marquesas archipelago imposes its difference. It is through the beauty of the sites and the contrasts of the places, from the powerful landscapes to sharp mountainous peaks, from archaeological remains to mysterious legends, that the magic of the Marquesas Islands was born. (B, L, D)
day 5


FATU HIVA (MARQUESAS)
In the morning you will arrive at Fatu Hiva, the island of "tapa", the domain of artisans, who still reproduce on fabrics made from tree bark, designs inspired by ancient Marquesan tattoos. (B, L, D)
The island of Hiva Oa, exposed to the ocean because it has no reef, offers the shores of its lands to the onslaught of waves and currents of a raging sea. Here, the inhabitants continue to exercise traditional activities at a slow pace, and it is for its quality of "small quiet port" that the painter Paul Gauguin and the singer Jacques Brel have chosen this island as their ultimate home. (B, L, D)
Tahuata, the island of Monoi, is the smallest inhabited island in the Marquesas, but not isolated as it is only 1 kilometer from Hiva Oa. The capital village of Hapatoni, built by the sea, wraps around a large bay, along a road built on old paving. Its craft center is a reminder that in Tahuata, almost all men, young and old, are sculptors. (B, L, D)
Thanks to the legacy of a legendary past, the mystical island is home to treasures: majestic "tiki" of carved stones, numerous places of worship called "mea'e" and more than 7,000 petroglyphs. Its imposing cliffs, its large plateaus dedicated to cultures and forests, its jagged coasts, its rocky peaks, its caves, and underwater caverns contribute to this grandiose island. (B, L, D)
Two days of navigation to reach the Society Island archipelago made up of the Windward & the Leeward Islands, a set of high, tropical, and lush islands, surrounded by turquoise and translucent lagoons. (B, L, D)
day 11


HUAHINE (SOCIETY ISLAND)
Arrival in Huahine in the morning. Known as The Garden of Eden, it is the most sensual but the most mysterious of the Society Islands. Its wild and attractive nature flourishes on unspoiled beaches, deserted coves or on "motus", paradisiacal islets. It also hosts the most extensive archaeological remains in Polynesia. You will leave Huahine at the end of the afternoon sailing towards the island of Bora Bora the pearl of the Pacific. (B, L, D)
In the morning, arrival on one of the most beautiful lagoons in the world. It is in Bora Bora, the most romantic of the islands, that you will spend your next two days. The pearl of the Pacific, so named by Captain Cook, carries with it the magic of the most beautiful islands of Polynesia. The green colors of this island contrast with the sapphire, jade and turquoise shades of the lagoon that surrounds it. (B, L, D)
day 13


TAHA'A (MOTU MAHANA)
Arrival in Taha'a in the morning. Taha'a shares the same lagoon as its sister island, Raiatea. Enchanting paradise with an emerald lagoon surrounded by motus. A "Polynesian day" on motu Mahana Paul Gauguin's own private islet, explore this idyllic island and its turquoise lagoon, enjoy swimming, snorkeling, and kayaking, or simply lounge on the beach with a chilled beverage from the floating bar. A delicious BBQ lunch with local tastes, will be served. Les Gauguines will also be on hand to provide musical entertainment and dances which you will surely be invited to participate! Demonstration of traditional Polynesia crafts. At the end of the afternoon, you will sail towards Moorea. (B, L, D)
Carved by spectacular mountain ridges, cove- red by an abundance of fruits and flowers, bordered by a peaceful and translucent lagoon, and hemmed by majestic palm-tree beaches, the awe-inspiring beauty of Moorea is unmatched. During your stopover, you can shop for local crafts, explore the interior of the island in a 4X4 and taste delicious pineapples, or watch and swim with dolphins in the company of a marine biologist. The ship will be moored overnight. (B, L, D)
After breakfast you will disembark the Paul Gauguin with great souvenirs of the magic of French Polynesia. (B)
B BREAKFAST / L LUNCH / D DINNER
Departure
Dates
Price per person, $CDN, based on 2 people/room

Prices subject to change

Dates
Airline
Lowest Price
Notes
Regular Price
Details
From 28 aug. to 11 sept. 2021
cruise only
9499 $

Cabin cat. F (Porthole – Deck 3)

9499 $
View details
From 28 aug. to 11 sept. 2021
cruise only
9949 $

Cabin cat. E (Window – Deck 4)

9949 $
View details
From 28 aug. to 11 sept. 2021
cruise only
13299 $

Cabin cat. D (Balcony – Deck 6)

13299 $
View details
From 28 aug. to 11 sept. 2021
cruise only
13799 $

Cabin cat. C (Balcony – Deck 7)

13799 $
View details
From 28 aug. to 11 sept. 2021
cruise only
17299 $

Cabin cat. B (Veranda – Deck 8)

17299 $
View details
From 28 aug. to 11 sept. 2021
cruise only
21149 $

Cabin cat. A (Suite Veranda – Deck 7)

21149 $
View details
From 20 nov. to 04 dec. 2021
cruise only
8899 $

Cabin cat. F (Porthole – Deck 3)

8899 $
View details
From 20 nov. to 04 dec. 2021
cruise only
9399 $

Cabin cat. E (Window – Deck 4)

9399 $
View details
From 20 nov. to 04 dec. 2021
cruise only
12699 $

Cabin cat. D (Balcony – Deck 6)

12699 $
View details
From 20 nov. to 04 dec. 2021
cruise only
13149 $

Cabin cat. C (Balcony – Deck 7)

13149 $
View details
From 20 nov. to 04 dec. 2021
cruise only
16449 $

Cabin cat. B (Veranda – Deck 8)

16449 $
View details
From 20 nov. to 04 dec. 2021
cruise only
20299 $

Cabin cat. A (Suite Veranda – Deck 7)

20299 $
View details

CANADIAN RESIDENT PROMOTION INCLUDED : 10% OR 20% REDUCTION (SUBJECT TO CHANGE AT ANY TIME)

SINGLE SUPPLEMENT ON REQUEST
Our price

includes :
14 nights cruise on the M/S Paul Gauguin departing from Tahiti in the category of your choice
All meals and gratuities during the cruise for room stewards, dining, and bar staff
Preselected wines and spirits (except Sommelier's Carte, Grands Crus and Vintage Wines) as well as all drinks
Minibar is replenished daily and free of charge with non-alcoholic drinks, mineral water, and beer
Complimentary 24 hour room service including choices from the menu of the Etoile Restaurant for dinner
Wi-fi access on board
Non motorized water sports: kayaking and paddle boarding
Entertainment on board : Polynesian artists, live music in the evening, presentations by experts and invited guest speakers
Port charges : $ 450
Our price does
not include

:
International flight
Transfers
Meals and drinks not mentioned
Optional excursions