Romantics ceremonies – MANAVA RESORT & SPA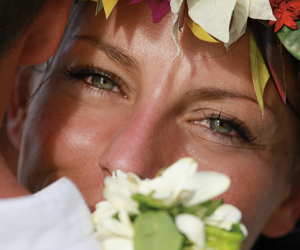 Visited Countries:
French Polynesia
Make your romantic dreams come true by getting married or renewing your vows in French Polynesia. Symbolic beach wedding packages are offered on most islands and on some cruises. If you wish, it is also possible to get married legally and to do a combination of the two ceremonies, symbolic and legal. As each couple and each wedding is unique and special, please do not hesitate to contact us so that we can find the best ceremony to suit your style
MANAVA RESORT & SPA
TE PAE MITI, Polynesian wedding ceremony on the beach
Duration : 20 minutes – under the Tree of Love
Welcome message in your room, with a bottle of champagne, a bed of flowers and a fruit basket. The Te Pae Miti ceremony will take place under the Tree of Love, the beach will be decorated with colorful flowers. You will be dressed in traditional attire of white wedding sarongs and adorned in flower crowns and leis. You will arrive by canoe to the wedding ceremony location on the beach, where the Polynesian priest awaits you to bless your union. Tahitian dances and music will be performed during the ceremony. Your marriage will be given a unique Tahitian name, which will also be mentioned on your marriage certificate. You will end the ceremony with a delicious cocktail.
* PRICE PER COUPLE
Our price

includes :
Welcome note in your bungalow along with a bottle of champagne, a bed of flowers and a fruit basket
Outrigger canoe transportation to the beach
Flower decoration under the Tree of Love
Polynesian priest
Polynesian music and dancers
Wedding certificate
2 Flower crowns and leis
2 pareos
2 cocktails served on the beach