Tahiti, Moorea & Bora Bora with Conrad Hotels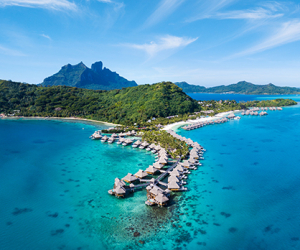 Visited Countries:
French Polynesia
TAHITI, queen of the Pacific
Tahiti is the largest of the 118 islands and atolls that make up French Polynesia. The island of Tahiti is divided into two parts : the larger portion to the northwest is known as Tahiti Nui, while the smaller, south eastern peninsula is known as Tahiti Iti. The capital city of Papeete, is the economic center of French Polynesia. It hosts the government offices, hospitals, banks, airlines and travel agencies, boutiques and black pearl shops. Papeete is a vibrant and multicultural city with busy boulevards and a bustling harbour. The downtown municipal market, "LeMarché", is an exciting place to purchase all the souvenirs and gifts that French Polynesia has to offer including vanilla beans, monoi oil and colourful pareos. The waterfront is attractive, with a tree lined promenade along a marina with an international yachting community. This waterfront promenade comes to life at night when gourmet food trucks, "Les Roulottes", open their windows to serve a range of affordable meals including Chinese food, French crepes, steak frites, fresh fish and pizza. Papeete hums with happy sounds in a tropical atmosphere with French flavor and a Tahitian easygoing disposition !
MOOREA, the magical island
Located only ten nautical miles from Tahiti and less than 30 minutes away by ferry are the deep, spectacular bays and white sandy beaches of Moorea. The island is roughly shaped like a heart from overhead; and in the theme of love and romance, Moorea is one of the top honeymoon destinations in Tahiti, second only to Bora Bora. Take in volcanic peaks, reflected in the peaceful waters of Cook's Bay and Oponohu Bay, lush mountain slopes covered with rain forest or pineapple plantations, and white sandy beaches bordering blue lagoons. The Belvedere Lookout is probably one of the most spectacular lookouts in the world, located between Cook's and Oponohu Bay. Popular lagoon excursions include snorkeling, paddle boarding, cruising and fishing. During mating season (August to October) we highly recommend a whale watching tour. Another incredible experience is an encounter at the Moorea Dolphin Center, the only natural refuge where you can swim and play with dolphins. Embark on one of the local 4x4 excursions or play golf at the Moorea Green Pearl Golf Course designed by Jack Nicklaus. Visit the Moorea's Tiki Village for a traditional feast and authentic Polynesian dance show.
BORA BORA, JEWEL OF THE SOUTH SEAS
Bora Bora is one of the few places on earth that everyone hopes to see in their lifetime. Unquestionably the most romantic of the Pacific islands, it remains the island of all dreams. The inevitable love affair with this island begins right before you touch down. The view from the plane window is a moment you will not soon forget. Mount Otemanu and the turquoise lagoon and luxurious overwater bungalows somehow look even more spectacular than in the pictures. The wonderful thing about Bora Bora is that you can be as active or inactive as you wish to be. Bora Bora lagoon offers a multitude of activities and excursions. One of the most popular being the circle island tour including swimming with the rays including a motu picnic. Simply said, Bora Bora is the most beautiful island in the world.
Updated February 8, 2021.
Departure
Dates
Price per person, $CDN, based on 2 people/room

Prices subject to change

Dates
Airline
Lowest Price
Notes
Regular Price
Details

✓

From 18 to 29 july 2021
8549 $

(t)

8549 $
View details

✓

From 15 to 26 aug. 2021
8549 $

(t)

8549 $
View details

✓

From 19 to 30 sept. 2021
8549 $

(t)

8549 $
View details

✓

From 17 to 28 oct. 2021
7899 $

(t)

7899 $
View details

✓

From 14 to 25 nov. 2021
7499 $

(t)

7499 $
View details

✔ GUARANTEED DEPARTURE MINIMUM 2 PASSENGERS
$ 100 REDUCTION PER PERSON IF PAID BY CHEQUE
SUPPLEMENT OVERWATER BUNGALOW IN MOOREA, PER PERSON FOR THE 3 NIGHTS, t $ 630 (MAY TO OCTOBER), t$ 510(NOVEMBER)
SUPPLEMENT OVERWATER BUNGALOW IN BORA BORA, PER PERSON FOR THE 4 NIGHTS: $ 740 ALL DEPARTURE DATES SUPPLEMENT EARLY CHECK IN TAHITI : $ 235 PER PERSON
PRICED BASED ON G CLASS ECONOMY AIRFARE WITH AIR TAHITI NUI
t : FOR A RESERVATION BOOKED 15 DAYS IN ADVANCE
International flight from Los Angeles to Papeete in economy class with Air Tahiti Nui
2 nights accommodation at the Tahiti Ia Ora Beach Resort Sofitel in a superior garden room
3 nights in Moorea at the Hilton Moorea Lagoon Resort & Spa in a garden bungalow with private pool
4 nights accommodation in Bora Bora at the Conrad Bora Bora in a garden bungalow with private pool
Breakfasts
Dinners in Moorea & Bora Bora
Welcome with a traditional Polynesian flower lei
Inter island flights
All transfers between the airport and the hotels with English or French assistance
Airport taxes : $ 280
Our price does
not include 

:
Flight between Montreal – Los Angeles
Meals and drinks not mentioned
Optional excursions
Tips for guides, drivers and hotel staff
City tax payable locally per person and per night ± $ 3 Moorea & Bora Bora, ± $10 in Tahiti
✈ Our airline contracts do not allow us to make seat selections at any time.